COLUMN TYPE LOADERS
MODEL CDC
These loaders are adaptable for any deck oven model in the market. They are specially designed to work with loading stands and cutting tables.
Its versatility and compact size make them perfect for many typologies of installation.
There are three different features for CDC model depending on requirements:
· Semi-automatic
· Automatic-standard
· Automatic-special
Please contact us for more information and to study your needs in detail.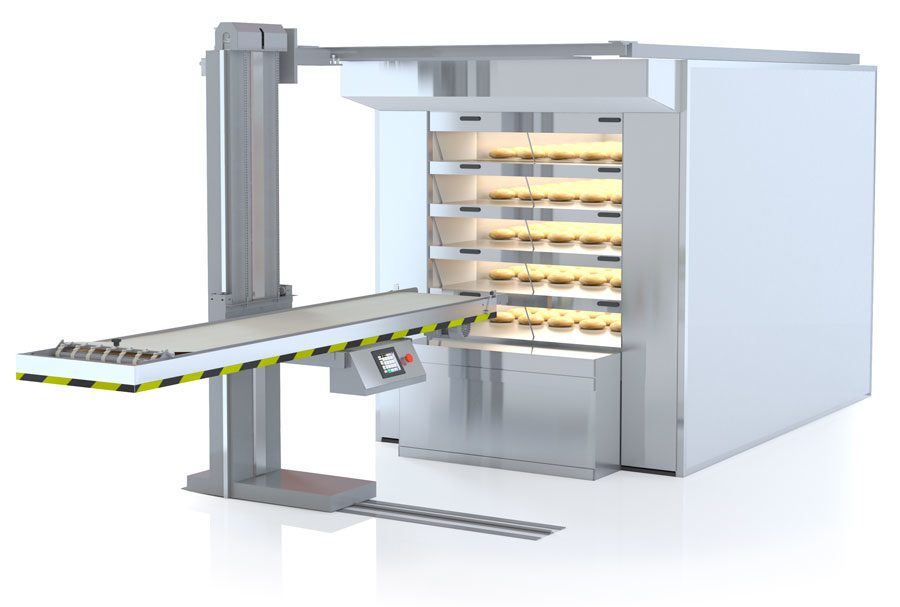 SEMI-AUTOMATIC LOADER
This model incorporates an electric infeed/outfeed motor with two speeds whereas vertical lifting is manual. 
Place de loader in front of the oven, loading stand or cutting table and the automatic infeed/outfeed device will load or unload the product without effort.
AUTOMATIC-STANDARD LOADER
In this loader lifting is fully automatic with an electric motor and a height sensor. This model incorporates an electric infeed/outfeed motor with two speeds as the semi-automatic model does.
Both lifting and infeed/outfeed movement could be transformed to manual if necessary or required. 
AUTOMATIC-SPECIAL LOADER
This model runs similar to automatic-standard model in both lifting and infeed/outfeed fully automatic movement.
The height positioning of the loader can be easily configured through the simple interface that incorporates.
All CDC models have the same manufacturing quality both in the stainless steel of the tapestry and in the mechanical components. Electrically, they all have common elements such as the double speed of infeed/outfeed movement, the light indicators on the button panel and a system for electrically blocking the loader until it is correctly positioned.
In the automatic models it is easy to transform the lifting and infeed/outfeed movement into manual if necessary or desired.
The Automatic-special model is different due to the way of working provided by its electrical system. The orders of vertical displacement are carried out through the touch screen at any desired height of oven, table or directly from the loading stand, without ussing height switches for its positioning in height. System patented by Industrias Caedca S.L. 
LOCATION
Polígono industrial Malpica
Calle F/Oeste, Parcelas 15-16, Naves 6 y 9, 50016, Zaragoza, España
Monday to Friday from 7:00 to 15:00